ABOVE: Jeeb's the Butler says "Welcome to the party, would you like some candy?"
HOST A HALLOWEEN COSTUME PARTY
ABOVE: Haunted Graveyard in front yard
ABOVE: Magick Alchemist's Lair
ABOVE: Mad Scientist's Laboratory
ABOVE: Witches' Cottage greets guests as they come through front door
Hello everyone,
CRAZY FUND RAISING IDEAS
Are you looking for creative ways to raise money for your next charity fitness event? My husbands birthday is October 21st. For the past two years we have hosted a Halloween Costume Birthday Party at our house in order to help us raise funds for the Leukemia Societies Team in Training program.
We find that we are more successful raising funds by hosting small events at our house, with our friends and co-workers, than trying to host large group fundraisers at a local restaurant or other public venues.
ASK FOR DONATIONS
For the Halloween Party we had a suggested fund raising donation of $10 per person. Some people gave less, but many of our guests ended up donating more. We raised approximately $600 last year during our Halloween party. And we had a rip-roaring, hooting-tooting good time. WOO-HOO!!!
You could charge admission to your party, but this was also my husband's birthday party, so we didn't want people not to show up because they couldn't pay the admission fee. We setup a donation area on the breakfast bar in our kitchen. The donation area had a donation box, donation slips, pictures of our honored hero, pictures of Rob and I cycling in our Team in Training uniforms, copies of our fund raising letters, business cards I printed out with the web address for our fund raising site and our medals from the previous events we had done with Team in Training.
Throughout the night we would talk to small groups of people, or individuals, about our involvement with Team and Training and how we were helping to raise funds for the Leukemia and Lymphoma Society. Make the fund raising portion of the evening casual, no hard selling. You want everyone to
HAVE FUN
and not feel pressured into making a donation.
DECORATING FUN

I am a Halloween nut, and probably have more Halloween decorations than Christmas decorations. I went a bit crazy two years ago, for my husband's 50th birthday party, and went and bought TONS of decorations. So now I'm one of those crazy people that starts decorating for Halloween around the middle to end of September.
We decorate the ENTIRE house, inside and out. We have a ton of decorations in front of the house, including a large cemetery area. Each room inside the house is decorated in a certain spooky theme. Last years room themes were:
Witches' Cottage
Mad Scientists Laboratory
Magick Alchemist's Lair

Victorian Parlor
Creepy Crawly Kitchen

PLAY WITH YOUR FOOD
I am a freelance writer, and a lot of my articles feature my own original recipes. So for the Halloween party I got really creative with food. Here is what we had at last years party.
Bat Wings - chicken wings
Bucket of Blood - punch bowl filled with pomegranate juice mixed with lemon/lime soda
Dragon Poo - chocolate walnut fudge rolled into interesting shapes
Pig Entrails - crock pot full of mini franks and baked beans
Brain Salad - coleslaw
Charred Bones - BBQ ribs
Dried Scabs - dried cranberries and raisins
Devil's Eyeballs - deviled eggs topped with an olive slice

Flesh Rings - ham and cream cheese roll ups

FUN PHOTOS
Although most of the photographs that are included in this post were taken during the day, everything looks much scarier at night. The party started at 7:30 PM, so everyone was getting there in the dark - cool!!! We had tons of lights, strobe lights, black lights, spooky sound effects and all kinds of awesome things. Quite a few of our decorations had motion sensors on them, so they would light up, move and make noises whenever someone walked by them.
LEAVE THE KIDS AT HOME
I'll be posting up information on the Girl's Club Tea Party fund raiser we hosted last year. That was a kid friendly party that took place during daylight hours. But our Halloween party was planned as an adult's only party - no kids allowed. Well, our kids, age 12 and 17, were in and out of our house during the party, but they live there.
The Halloween party was probably a bit too bawdy, for kids, and I didn't think really small kids would be too happy with some of the scary decorations we had setup. The party went from 7:30 PM to midnight. Some of our guests brought a few spirits along with them to drink, enough said. What happens at the Halloween party, STAYS at the Halloween party!!!!!
ABOVE: Fortune Telling Table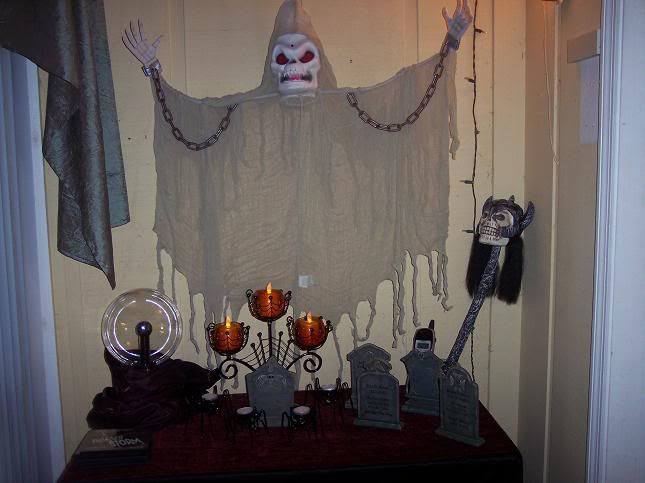 ABOVE: More decorations!
ABOVE: Festive Party Goers
2008 HALLOWEEN COSTUME PARTY
Please note, the date of this year's Halloween Costume Birthday Party is scheduled for Saturday, October 18th from 7:30 PM to MIDNIGHT. Rob is turning 52 years old this year - SCARY! Ask nicely, and we just might send you an invitation!