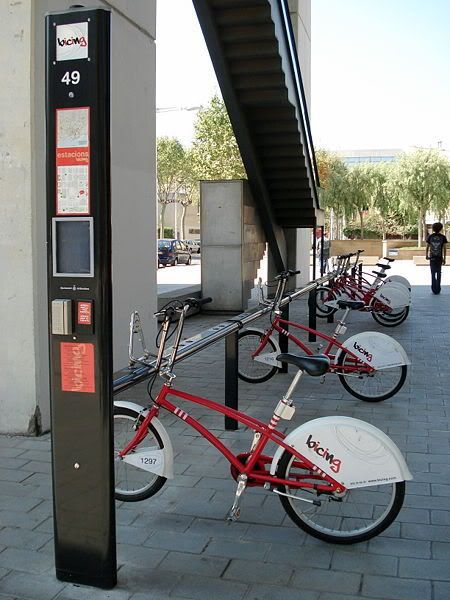 Bicing (yes, that's how it's spelled) is a new public transportation opition in Spain which launced on March 22, 2007. Here is additional information from the official website which is located at
http://www.bicing.com/
:
"Bicing is your new public transport by bicycle. This new service is simple, practical and secure, which you can use on your way through the city, to go wherever you want, whenever you want without pollution and noises. Combine it with the other public transports and you will go as far as you want."
Thousands of people have already signed up for this subscription bike rental service. There are currently over 3,000 bicycles located at 200 bicing stations located throughout Barcelona. The bikes can be used for up to 2 hours at a time.
The bikes can be borrowed from any of the bicing stations and returned to the same station or any other bicing station. Users are issued a credit-card type subscription card which allows them to access the bicycles at any of the bicing stations where there is an available bike. You must be at least 16 years old to use the bike rental service.
The name bicing is derived from bici the Spanish or Catalan version of bicycle and the abbreviation of Barcelona which is BCN. As well the English continuous ending of -ing is used for other means of transport in Spanish like footing (
Anglicism
used for
jogging
) and vueling, which is a
Catalan
airline.