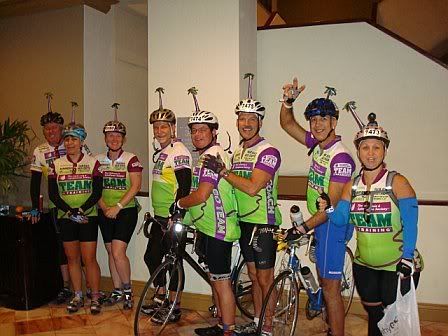 Cocoa Beach Century Ride
As some of you might remember, last year Rob and I raised money for the Leukemia & Lymphoma Society through their Team in Training program. The event we trained for was the 109 mile El Tour de Tucson, which took place on November 17th, 2007. We were the mentors for the Palm Beach County cycle team. It was a phenomenal experience, both the ride, and working towards raising money for such a worthy cause.

This year, Rob is going to be the coach, and I will be the mentor for the group training for the 2008 Intracoastal Waterway Century Ride. This 100 mile road bike ride takes place on October 26th in Cocoa Beach, FL. We are looking for people to participate as a member of the Palm Beach County TNT cycle team.

This is a great way to get the support and structure you need to get in shape, meet new cycling friends and achieve something many people haven't - riding 100 miles on a bicycle in one day! The Leukemia and Lymphoma Society is a charity that does much to further research towards cures, and ease the burden of those battling leukemia, Hodgkin's disease, lymphoma and myeloma along with improving the quality of life of patients and their families.

In exchange for the support and training, you commit to raising a certain amount of money. The participation minimum for this ride is $2100. This might seem like a large amount, but you'd be very surprised at how quickly and easily this amount of money can be raised. Last year Rob and I raised over $6,500!

ALL CYCLISTS WELCOME
Last year's team had everyone from very athletic road bikers, to recreational cyclists, to diehard couch potatoes, to a 63/73 year old couple riding their tandem bicycle. EVERYONE is welcome, no matter what prior road biking experience you may have. The Palm Beach County cycle team will have a coach, and a mentor to help you out with your training and fundraising goals. Each training ride also includes a SAG vehicle, filled with snacks and goodies, that sweeps the ride route should anyone have a mechanical problem or any health issues.

INFORMATION MEETINGS
Information meetings will be starting in Palm Beach County over the next few weeks. Rob and I will be attending most of these meetings, and will spend a few minutes at each meeting talking about our experience with the Team in Training program.

BOYNTON BEACH - Monday, April 14 - 6 pm - West Boynton Beach Library

JUPITER - Monday, April 14 - 6 pm - Jupiter Community Center

WEST BOCA RATON - Wednesday, April 16- 6 pm - Fleet Feet Sports Boca

EAST BOCA RATON - Monday, April 21- 6 pm - East Boca Community Center

ROYAL PALM BEACH - Tuesday, April 22- 6 pm - Royal Palm Beach Library

WEST PALM BEACH - Thursday, April 24- 6 pm - South Florida Water Mgmt District

PALM BEACH GARDENS - Saturday, April 26- 9 am - NIKE Women, The Gardens Mall

WEST PALM BEACH - Saturday, May 3- 9:30 am - The National Croquet Center. This is also the Fall Season Kickoff for all TNT events including the Accenture Chicago Triathlon, The Nation's Triathlon, The Bank of America Chicago Marathon, Nike's Women's Marathon and the 20th Annual Intracoastal Waterway Century Road Bike Ride.

If you are interested in joining the TNT program, know someone who might be, or would like more information, please drop me a note.

Lynn Smythe
Team in Training Cycle Mentor
Thebikediva@yahoo.com
thebikediva.blogspot.com

For more information about Team In Training and the Palm Beach Area Chapter, visit their website at www.teamintraining.org/pb or give them a call at 561-775-9954.